Submitted by Bob Bhatnagar on
The wait is finally over for Netflix subscribers interested in streaming video on their iPhones. The highly anticipated Netflix app version 1.1.0 went live in iTunes and can be downloaded for free. Netflix subscribers now have access to their Instant Queue and can watch movies using a Wi-Fi or cellular data connection.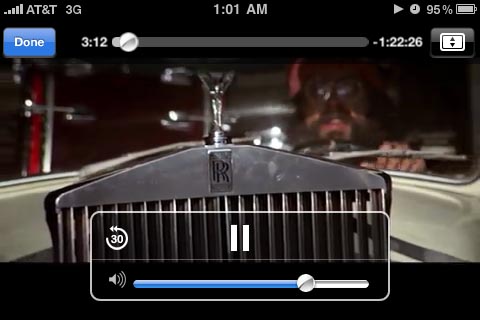 Movies that are interrupted can be continued on the iPhone later or on other devices such as an iPad or a computer. The new iOS app is a universal app, meaning it also works on the Apple iPad. Netflix includes high-speed scrubbing controls and switches between full letterbox format and a zoomed video view which fills more of the iPhone screen.
Initial tests of the app required some time over a 3G or EDGE connection to buffer movie data, after which performance was smooth and video quality was surprisingly good. A few skips in video at the very beginning of play were overcome and didn't happen again unless video was interrupted or the high-speed scrubbing control was moved ahead.
The Netflix app does not allow users to manage their DVD queue, but movies and television shows can be added to the instant streaming queue. Recommendations are given and movies can be rated, although movies can't be removed from the instant streaming queue. Searches for instant streaming movies or browsing by genre are other options possible using the Netflix app.
Unlimited instant streaming for Netflix subscribers starts at $8.99 per month, and movie titles that are available in the section vary over time, differing from the DVD options. Netflix now offers instant streaming on several platforms including PlayStation, Xbox 360 and Wii along with Mac and Windows computers.