Submitted by Bob Bhatnagar on
One of the highlights of the Macworld Expo this year is a product from Studio Neat, the Glif iPhone 4 stand. This simply designed stand for the iPhone does just about anything you'd want a stand to do with a compact and portable form factor.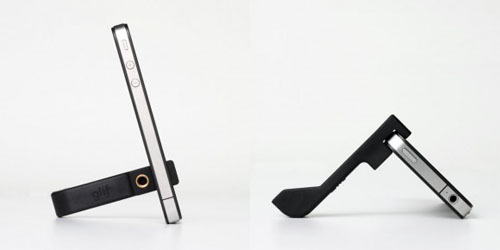 Glif is made of rubberized plastic and easily attaches to a caseless iPhone 4 in a variety of positions. Stand up the device vertically or horizontally for calling with speakerphone, FaceTime or watching video. The Glif even features a standard 1/4 inch brass thread for tripod mounting when taking photos. The stand is lightweight and just slides directly onto the iPhone 4 to grip the device in whatever direction is needed for your purpose.
The stand is named after a glyph since the product resembles a typographical symbol or letter. Both the AT&T and Verizon iPhone 4 will fit into the Glif, and the Glif can be transported with a minimum of hassle thanks to its compact size. With only one simple piece and no moving parts, the stand instantly replaces several different accessories with an all-in-one unit. When mounted to a tripod, the iPhone 4 can be oriented in portrait or landscape for steady picture taking.
Glif started with a Kickstarter campaign that raised $137,417 from 5273 contributors and helped bring the product to market within only five months. Studio Neat is selling the iPhone 4 Glif stand at Macworld for $17, and the Glif can be purchased online for $20.