Submitted by Thomas Estilow on
iDealsChina has released more iPhone 5 images depicting a larger display on the next generation device. They claim the renderings are mold engineering drawings intended for case manufacturers that detail the design of the iPhone 5. Pictured below, these computer renderings show what looks to be essentially the iPhone 4 profile with a larger screen.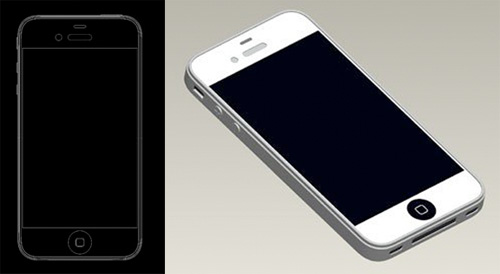 The display comes right up to the edge of the device, whereas with current iPhone 4 models there's a black gap between the screen and silver antenna frame. Reports have speculated that Apple intends to compete with several Android devices recently launched with 4-inch displays. The purported leaked images seem to match photos of a iPhone 5 bezel also showing a larger screen opening.
Whether or not the engineering drawings are real has been up for debate. Although the leaked bezel and computer renderings match, conflicting reports indicate Apple will completely redesign the iPhone 5. The latest rumors point towards Apple returning to an aluminum back on the iPhone 5 and redesigning the antenna. Instead of the external iPhone 4 antenna which has been in the news for attenuation problems, Apple could be moving towards a more iPad-like design for the next iPhone.
An aluminum back would not be prone to breakage like the current all-glass iPhone 4 design. In addition, using the plastic Apple logo as a window for radio signals would make it possible for the iPhone 5 to have internal antennas much like the iPad. Still, if these engineering drawings are real, it would appear that Apple is focused more on this insides of the iPhone 5 than a complete redesign. Apple is widely expected to ship the iPhone 5 with its new A5 processor.
The exterior of the device appears to be exactly the same except for the larger screen. There is a chance that the screen is actually the same size as the current iPhone but the height and width of the device pictured is smaller. With no scale listed on the drawings, it's hard to say. Should it be true that Apple is simply shrinking the size of the iPhone 5, this could confirm previous reports of a
cheaper, smaller iPhone in the works
.
Whatever the case, it could be September before the iPhone 5 launches due to the late release of the white iPhone 4. The only thing that's certain is more rumors and leaked photos are coming our way in the next few months. Until Apple reveals what it has up its sleeve, the rumor mill keeps turning. Stay tuned for more iPhone 5 details as they surface.