Submitted by Bob Bhatnagar on
Intel already manufactures x86 processors for Apple's desktop computers, and now the company may be taking a closer look at mobile ARM chips like the Apple-designed silicon featured in current model iPads and iPhones. According to the EE Times, Intel is courting Apple with the intent of manufacturing processors for future generations of Apple mobile hardware.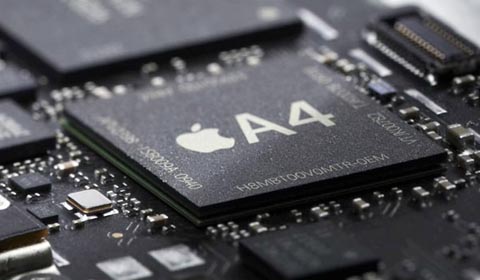 Currently the A5 processor is manufactured by Samsung, however this is already slated to change. On the horizon is chip maker Taiwan Semiconductor Manufacturing Company (TSMC), who has already signed a deal with Apple to take over the foundry relationship. TSMC could begin getting revenue from Apple business before the end of 2011.
With Apple and Samsung suing each other over patent violations, their partnership makes less sense, especially considering the competition of Samsung hardware against Apple's tablets and smartphones. Samsung produces the Galaxy Tab as well as several Android smartphones that compete directly with Apple's iPhone. According to analyst Gus Richard, "Intel's manufacturing lead gives Apple an additional competitive advantage in these markets and distances it from Asian competitors that are knocking off its products. Furthermore, it would also serve to weaken Samsung who is a significant competitive threat to both companies.''
Although this might be true, Intel has tried unsuccessfully to break into the mobile markets with its own Atom processor. They have the production capacity to support the demands of a company like Apple, but relying on Apple's designs and mobile hardware sales for revenue would reflect a change in strategy at Intel. When it comes to chip technology, Intel can now make chips with circuits only 22 nanometers apart. These smaller chips could save battery life in mobile devices. In comparison, TSMC can make 40 nanometer chips and Samsung is currently using a 45 nanometer process to make the Apple A5.