Submitted by Bob Bhatnagar on
One of the highlights of Apple's iPad announcement was the heart of the device, the custom system-on-a-chip (SoC) now known as the Apple A4. This mysterious chip spawned from Apple's longtime partnership and 2008 acquisition of PA Semi.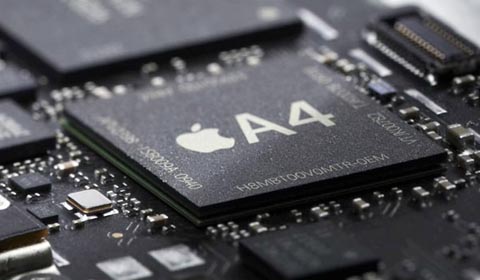 The A4 is a power-sipping, high speed 1GHz processor with an integrated graphics processing unit (GPU) that runs Apple's multi-touch iPhone OS like nothing else. According to Steve Jobs, the iPad will play video for 10 hours before its battery is exhausted.
What Jobs is not talking about are some of the hidden features of the A4, such as hardware digital rights management (DRM) elements that are sure to be revealed as soon as the first iPad ships. Apple's custom chip gives it complete control over software and DRM, making its devices more appealing to content providers, and causing difficulties for those who like to modify their devices.
Now that Apple employs 150 of the best chip engineers and has spent $500 million developing the A4 processor, what's next? Much of the initial speculation surrounding Apple's acquisition of PA Semi revolved around the company producing custom chips for its iPhones.
The analysts are back, and it seems that Apple would be fully capable of releasing a custom iPhone SoC based on the A4 in a fourth generation iPhone this summer. A variant of the A4 could double the speed of current iPhones and extend battery life.
The Apple iPhone 3GS runs on an 833 MHz Samsung chip that is underclocked to 600 MHz. Underclocking reduces power consumption and increases battery life. The original iPhone and the iPhone 3G featured a 620 MHz processor underclocked to 412 MHz.