Submitted by Frank Macey on
Just when everyone started to believe that the fifth generation iPhone announcement wasn't coming until August, new information points to a possible WWDC reveal this June. According to Electricpig in the United Kingdom, British journalists are being invited by Apple to attend the Worldwide Developer's Conference (WWDC) starting on June 6.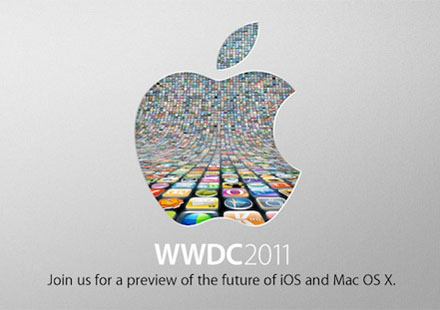 Would the iPhone public relations team in the UK be asking select tech publications to attend WWDC in San Francisco if a new product announcement wasn't about to happen? Electricpig's sources say no way. This could mean that new iPhone hardware will be shown off in June after all. According to US invites pictured above, the focus of the event seems to center in on the next version of the iOS mobile operating system.
Electricpig is more convinced that the hardware announcement is coming in June along with iOS 5 information. What's not clear is exactly what Apple is releasing next. Evidence points toward an iPhone 4S, similar to the update the iPhone 3G received in the iPhone 3GS. The iPhone 4S is said to have the same footprint as the iPhone 4 with better hardware inside. Photos of prototypes have leaked showing an iPhone 4S with a larger screen as well, stretching from edge to edge in the familiar iPhone 4 form factor.
More radical changes are expected to take place on the iPhone 5. A curved metal back, thinner profile and curved glass front screen are just some of the improvements Apple is said to be working on. Conflicting rumors make it unclear whether or not Steve Jobs himself will announce any new hardware or software at WWDC 2011. We take all of these rumors with a grain of salt, however if the British press is indeed receiving invites to the event, it could be that Apple's plans are larger than we previously imagined.