Submitted by Marshall Walker on
If you are a regular reader of iPhoneFAQ then you're probably too smart to fall for a phishing scam, but sometimes these things even fool the best of us.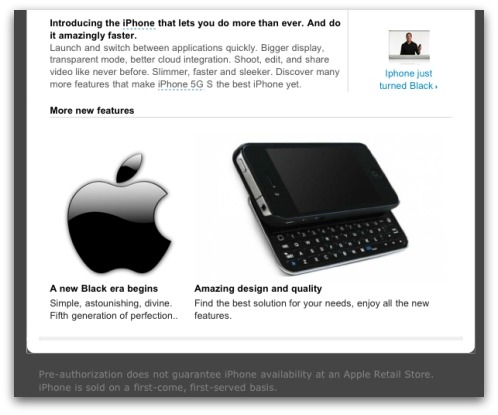 Attackers are preying on the excitement surrounding the WWDC by trying to infect your Windows PC with a nasty Trojan. An e-mail from noreply@apple.com with the subject line, "Finally The amazing iPhone 5. Now available in black edition," promises a bigger and better iPhone 5 with QWERTY keyboard.
"Introducing the iPhone that lets you do more than ever. And do it amazingly faster. Launch and switch between applications quickly. Bigger display, transparent mode, better cloud integration. Shoot, edit, and share video like never before. Slimmer, faster and sleeker. Discover many more features that make iPhone 5G S the best iPhone yet"