How can I sort notifications by time received?
iOS 5 Notification Center does a great job of keeping track of all notifications in one place. You may be wondering why the most recent notifications don't automatically come up at the top. There's an easy way to make sure that notifications are sorted by time of arrival.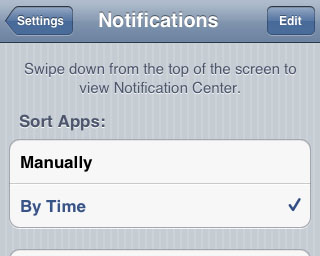 1. Navigate to Settings -> Notifications
2. Make sure the By Time box is checked under Sort Apps
Now the most recent push notifications will appear at the top of iOS 5 Notification Center regardless of which app they are from.