Submitted by Bob Bhatnagar on
App badges do a great job of showing pending notifications. The only problem is that the iOS home screen can quickly fill up with many red circles. This clutter doesn't appeal to everyone, and there have been many app badge mods to come out of the jailbreak community as a result. Examples include BadgeClear, Badge Customizer, and MagicBadges. iOS 8 users with jailbroken devices can now hide and organize app badges in a completely new way thanks to Confero.

Once installed, Confero provides many options to customize its behavior. The core of the tweak revolves around a status bar icon. When invoked, this icon opens a window right over the home screen showing all of the apps with pending notifications in one place. The corresponding icons back on the home screen are always displayed badge-free, which declutters the home screen.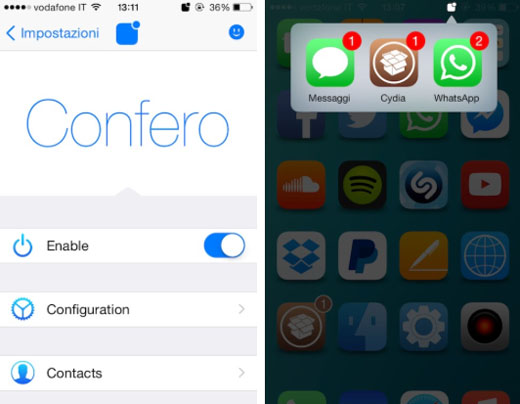 Confero can also be configured to use an Activator gesture instead of relying on the status bar icon. There are passcode protection options built into Confero, including Touch ID compatibility. Badge options within the Confero window include what's known as an Indeterminate Badge. This option will remove the circular number and replace it with a small, streamlined red mark to indicate pending notifications. While this looks slick, the actual number of pending notifications is never shown. Dismissing apps from the Confero window is accomplished with a swipe, or by holding down on an app icon.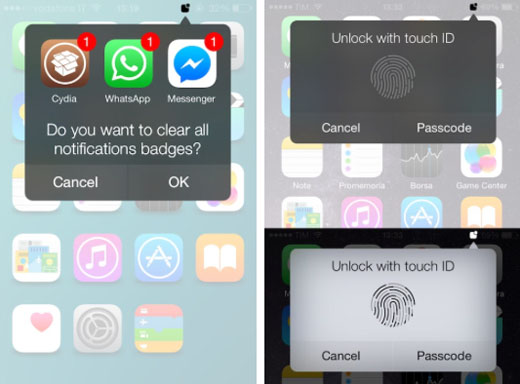 Last but not least, the jailbreak tweak can be used as an alternate app switcher. With this option enabled, the Confero window will act as an app switcher instead of simply showing notification badges. The number of icons displayed in the Confero window can also be customized, with up to four icons showing at a time.
Confero is available from the BigBoss repository on Cydia for $1.50. To start customizing iOS, click here for instructions on how to jailbreak iOS 8.1 with Pangu. Those with older firmware can check here for details on jailbreaking iOS 7.0 with evasi0n 7. The previous release of Pangu will jailbreak devices running iOS 7.1. Find out how to purchase and install Cydia tweaks with this guide.
For more tweaks and jailbreak news follow us on Twitter and Facebook.