Submitted by Marshall Walker on
Apple has planted fake device listings like "iPad10,1" and "AppleTV8,3" in configuration files to throw off developers looking for future iOS devices in their new iOS 5.1 beta 2. Mark Gurman (via MacRumors) discovered that the devices listed in the file, USBDeviceConfiguration.plist, went from around two dozen to over 100 items since the last release.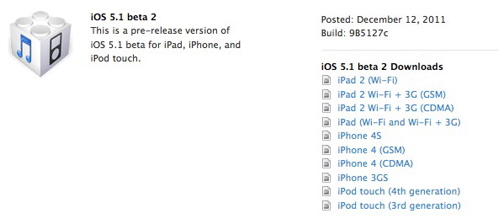 Besides the amusing fake files, iOS 5.1 beta 2 hasn't revealed anything too interesting. There are a few new bug fixes and the ability to remove images from the iCloud Photo Stream. The previous iOS 5.1 beta featured a possible battery drain fix, and an inactive code in the Camera app that allows panoramic photos.
And now for the obligatory jailbreak warning... If you plan to jailbreak your device you should avoid the iOS 5.1 update when it's released to the public.