Submitted by Marshall Walker on
We've seen other iPhone alarms before, but the ZOMM Wireless Leash offers much more protection than the normal mobile phone safety net. The ZOMM leash not only keeps your iPhone safe, but it allows you to find the GPS coordinates of anything you snap a picture of, and it also functions as a Bluetooth speakerphone.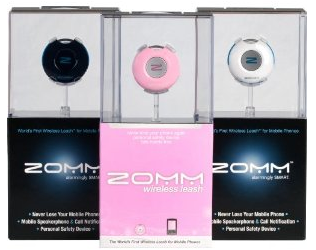 The Wireless leash vibrates, flashes or sounds an alarm whenever you separate 20-40 feet from your mobile phone. Combined with the free app, the ZOMM leash will give you directions to anything you tag like your car or favorite restaurant. It also allows you to share tagged items with your friends and works as a panic button. The speakerphone option notifies you of incoming calls and features a noise-canceling microphone for safe chatting while driving.
The ZOMM Wireless Leash comes in black, white or pink. It ships with a key chain, belt/bag clip, instructions manual, wall charger, and USB cable.