Submitted by Bob Bhatnagar on
There's another unlocking option for GSM iPhone 4 owners looking to use their device on multiple carriers. The latest GEVEY Ultra 5.1 SIM interposer makes this possible without jailbreaking or violating your Apple warranty. Compatible with iOS 4.1 and later (through 5.1), the product supports modem firmware versions 1.59, 2.10, 3.10.1, 4.10.1, 4.11.08, and 4.12.01.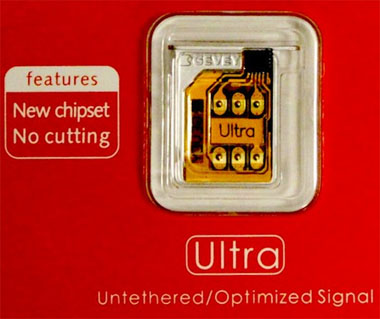 Of course, those with a jailbroken iPhone 4 can also use the GEVEY Ultra 5.1 to unlock their devices. More options are becoming available for unlocking including the SAM package method and even official unlocking of out-of-contract iPhones on the AT&T network.
The improvements to the latest GEVEY Ultra are listed as follows:
No Jailbreak Required
No need for jailbreak to unlock your iPhone 4 with the new GEVEY™ Ultra
More Baseband Support
GEVEY™ Ultra now unlocks iPhone 4 with modem firmware up to 4.12.01
Activation Required
iTunes activation and iPhone 4 reset required only for jailbroken handsets.
Longer Battery Life
New chip set operates under the 3-volt standard to save battery power.
Furious Mod Optional
Furious Mod file is not needed to unlock using the new GEVEY™ Ultra
Better Reception
Enhanced signal strength for strong, consistent voice and data connection.
The SIM interposer replaces your existing SIM card tray. With the GEVEY Ultra you do not have to cut your SIM card down to fit in the interposer, as was the case with some previous models. Unfortunately, there are some questions regarding the legality of activating the iPhone 4 in countries where the number 112 is an emergency call.
Gevey Ultra 5.1 SIM Interposer can be purchased from Applenberry for $49.99, although at the time of this writing the product was sold out.