Submitted by Marshall Walker on
Facebook has launched a new camera app for all iOS devices. The app makes sharing and viewing multiple photos easier and quicker. Facebook Camera features a camera shortcut so you can quickly snap pictures, and it allows you to post multiple photos instead of having to post one at a time. You can also add captions and tag your friends and location before you share.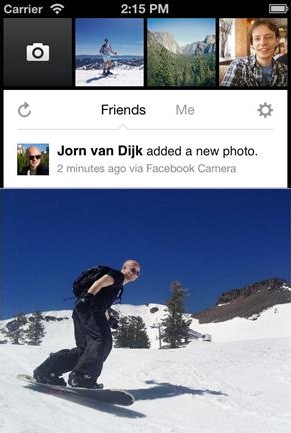 Facebook Camera also makes viewing pictures easier by eliminating status updates in your feed. It's separate from the original Facebook application so you won't lose your normal feed once installed. Version 1.0.1 is available for free in the iTunes App Store. It's compatible with the iPhone 3GS, iPhone 4, iPhone 4S, iPod touch (4th generation), iPad 2 Wi-Fi, iPad 2 Wi-Fi + 3G, iPad (3rd generation) and iPad Wi-Fi + 4G. It requires iOS 4.3 or later.
Official description:
With Facebook Camera, you can share photos on Facebook faster than ever, and see what friends are up to in a feed of nothing but their photos.
–Post a bunch of photos at once
–See friends' latest photos in one place
–Play with crops and filters
–Tag friends, add captions and say where you are
–See photos from different apps