Submitted by Bob Bhatnagar on
Looking for a better way to mute your iPhone? Typically the device can be silenced or put into vibrate mode with one switch. Maybe like some iPhone owners your ring/silent switch is broken. We've featured ways to get around this problem in the past, but now there's a simple, elegant solution for those with jailbroken devices.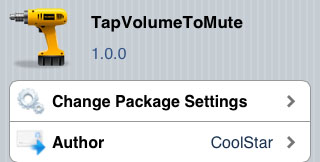 This simple alternative to silence the device ringer or headphone volume is a tweak in Cydia called TapVolumeToMute. After the tweak is installed, there are two steps to mute the iPhone or bring the volume back to its previous level.
First, press the volume up or down button on the side of the iPhone. When the volume display appears in the middle of the display, tap the white speaker icon above the volume level. This will instantly mute your iPhone, and repeating the process brings the sound back to its preset level. The tweak works great on any iOS device and makes switching the physical ring/silent switch a thing of the past.
TapVolumeToMute is available free from developer CoolStar on the BigBoss repository. The package can be found in Cydia under Sections -> Tweaks or by using the Search function. After installation, TapVolumeToMute has no settings or options to configure.