Submitted by Marshall Walker on
T-Mobile may not be an official Apple partner, but the company is making serious moves to increase the amount of iPhones used on its network. According to a leaked flyer obtained by TMONews, the carrier is preparing to launch a "Bring Your iPhone to T-Mobile" campaign.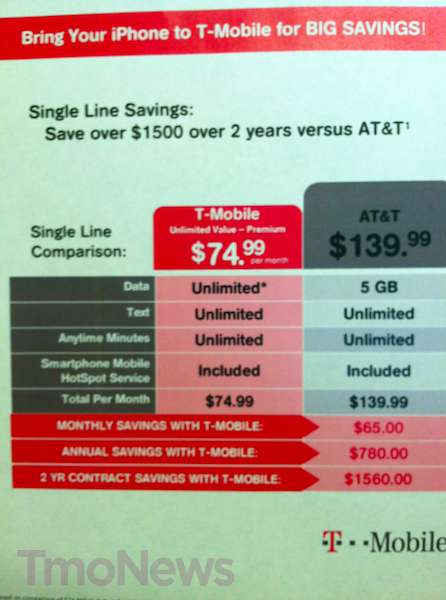 The flyer shows how much money AT&T customers will save if they bring their unlocked iPhones to T-Mobile. The carrier's move comes after AT&T's Mobile Share Plan / FaceTime controversy, and right before Apple is expected to announce the iPhone 5 in Spetmeber. iOS 6 will add 3G cellular calling to the popular FaceTime feature on the iPhone 4S and later models, and AT&T has announced that its subscribers will need a Mobile Share data plan to use the 3G service. T-Mobile hopes AT&T's unpopular FaceTime policy will convince some AT&T subscribers to switch carriers, but that's not all T-Mobile has up its sleeve.
T-Mobile is offering free iPhone support to its new and existing customers, and plans to make its network more iPhone friendly by like launching HSPA+ services in the 1900 MHz band. The carrier also plans to offer 4G micro SIM kits to iPhone 4 and 4S users who would like to bring their unlocked devices to the T-Mobile network.
Over one million iPhone users already use T-Mobile, and the carrier hopes its new iPhone friendly policies and truly unlimited data plans will increase that number in 2012.