Submitted by Bob Bhatnagar on
Good news for iPhone 5 owners looking forward to jailbreaking and installing the Cydia app store on their devices. iPhone Dev-Team member planetbeing reports that he has achieved almost a full tethered jailbreak on the iPhone 5. As posted on his Twitter feed, an upgrade to the jailbreak has allowed iOS 6 tweaks to work on Apple's latest phone.

There is one caveat with the current jailbreak however, which is that an Apple developer account is required for it to work. Some Dev-Team watchers were disappointed when developer Comex explained he has no plans to develop new jailbreak tools in the near future. After completing an internship at Apple, Comex will focus on other work.
In the meantime, planetbeing reiterated the team's plans will likely include an untethered iPhone 5 jailbreak. Since any jailbreak exposes the vulnerabilities used to Apple, the team risks losing these options as Apple adapts to close gaps in security. Planetbeing explained that only one additional vulnerability would be exposed by making the iPhone 5 jailbreak untethered.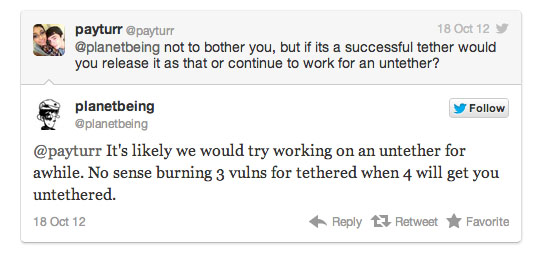 Of course, this is what the iPhone 5 community is waiting for with bated breath. It's great news that Dev-Team continues to work on updating jailbreak tools for the iPhone 5. Even better for those with older A4 devices is the fact that iOS 6 can be jailbroken right now on the iPhone 3GS and iPhone 4.