Submitted by Bob Bhatnagar on
The multitasking app switcher in iOS is great for quickly flipping between running apps. Over time, there are so many icons that pile up in the multitasking bar it can be tedious to manually delete them all. Several solutions exist to streamline and customize the process, including MultiCleaner which we've looked at before.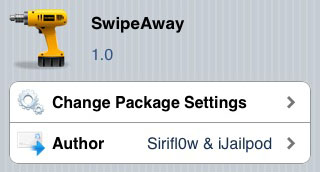 Now thanks to the ModMyi repo on Cydia, jailbreakers have a new option that provides simplicity. SwipeAway provides two settings for a gesture that clears all of the apps in the multitasking bar. The options are Swipe up or Swipe down, that's it. Once installed, you can open the app switcher then swipe in the direction that's picked in the settings to clear all of the apps.
Swiping down can be a little bit tougher just because the app switcher by default is positioned at the bottom of the screen. There's just not much space to work with, so swiping up is easier. Either way, with no other settings to configure, the tweak gets right to the point. Clearing all app icons in the multitasking dock happens immediately with a swipe.
The best part about SwipeAway is the tweak comes to Cydia users free of charge. The tweak requires iOS 5 and will not currently work with iOS 6. One gesture certainly beats tapping each individual red circle to remove icons, clearing the app dock to free up RAM and improve performance.