Submitted by Frank Macey on
AT&T is now offering refurbished iPhone 5 models at a discount. Sign up for a two-year contract online and you can get $50 off one of the refurbished units. On Black Friday the discount was even steeper, with $100 off being reported by Cult of Mac.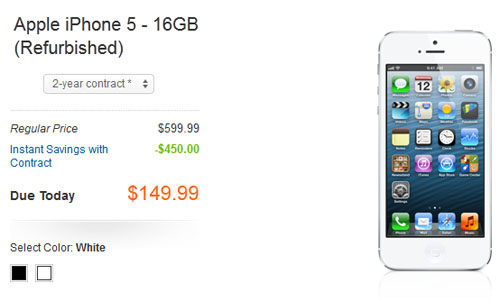 Currently AT&T has marked the refurbished 16GB black iPhone 5 out of stock, but the white 16GB and 32GB or 64GB in white or black are available. The discounts bring refurb phone prices down to $150, $250 and $350 depending on the amount of storage.
It's not clear how many of these refurbished iPhone 5 units are available, or how long AT&T will choose to offer the $50 off deal. For those concerned that the refurbs might come with a scratched aluminum case, AT&T does offer a 2-week grace period during which customers can return their device. Although we can't say for sure what "refurbished" means exactly, Apple does claim to put a brand new exterior case on all refurbished iPads.
In any event, if saving $50 appeals to you, then a refurbished iPhone 5 is the way to go.