Submitted by Frank Macey on
This is not a drill. Unlike some of the fake iPhone 5 jailbreaks we've seen in the recent past, evasi0n is for real. The software will be supported on Linux, Mac OS X and Windows machines, and jailbreak all devices running iOS 6.0 through 6.1.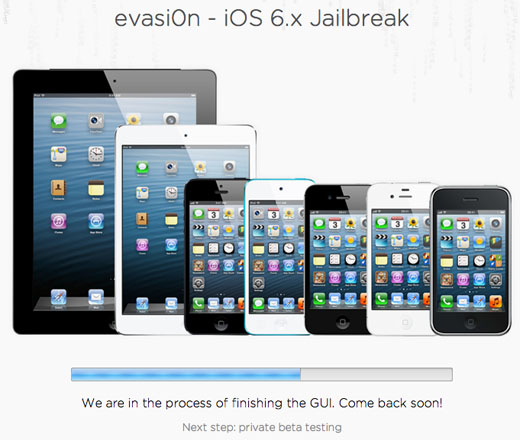 The project comes from the evad3rs, a team which includes some familiar names from the jailbreak community. MuscleNerd, pimskeks, planetbeing, and pod2g are currently finishing work on the graphical user interface and report that evasi0n is now 60 percent complete. Private beta testing is next.
According to the official evasi0n website, there are only four requirements to jailbreak your device:
1. Five minutes of your time!
2. A computer, running Windows (XP minimum), Mac OS X (10.5 minimum) or Linux (x86 / x86_64)
3. An iPhone, iPad or iPod running iOS 6.0 through 6.1 (check under Settings -> General -> About -> Version)
4. A USB cable to connect the device to the computer
The iOS 6.x requirement means that the following devices can be jailbroken with evasi0n.
- iPhone 3GS and later
- iPad 2 and later
- iPad mini
- iPod touch 4G and later
- Apple TV 2
After a long and patient wait, it seems that jailbreak fans will be able to start downloading packages from Cydia on all of Apple's new devices shortly. Check back for updates and feel free to donate to the evad3rs to help support all of their hard work.