Submitted by Bob Bhatnagar on
It may only be the first step, but iPhone developer MuscleNerd has successfully jailbroken the iPhone 4S. According to his post on Twitter, there are "huge missing pieces" with much work to be done before a public release can be contemplated. Still, we can see in the screenshots below that MuscleNerd has jailbroken an iPhone 4S running iOS 5. On the left is console root access on the device.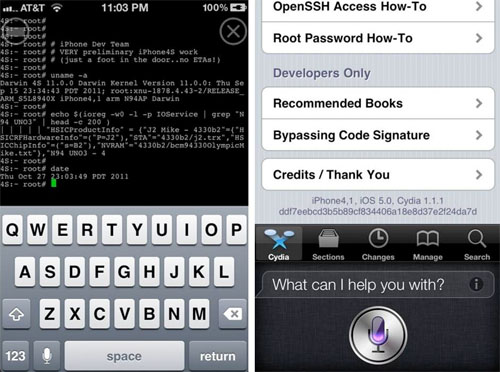 The right screenshot shows Cydia and Siri running on the iPhone 4S with iOS 5. For those waiting for a jailbreak solution for the iPhone 4S, this is encouraging news and it's only a matter of time until the iPhone Dev-Team or someone else gets everything together for a major iPhone 4S jailbreak release.
Recently the iPhone 4 and iPhone 3GS have been jailbroken running iOS 5, although for most devices the jailbreak is a tethered one. Still, the iOS 5 jailbreak process is a relatively simple one with redsn0w. The best news is that this iOS 5 jailbreak can even be semi-tethered by installing a simple package from Cydia after the jailbreak is complete. This ensures that iOS 5 users won't completely loose their device functionality if they are forced to reboot away from a computer.
Still, the Holy Grail right now is an iPhone 4S jailbreak, and it seems that MuscleNerd is the only person lucky enough to experience this. As more work is completed, the general public can look forward to jailbreaking the iPhone 4S and iPad 2 with iOS 5, thanks to the skills of MuscleNerd and iPhone Dev-Team. It's not clear yet whether or not the new jailbreak is a bootrom or userland based jailbreak, however the Chronic Dev Team is said to have found userland based exploits for the iPhone 4S.
Stay tuned for more details as we find out if the iPhone 4S will be an untethered jailbreak for the masses sometime soon.