Submitted by Frank Macey on
One of the top rated games ever created for iOS is now available for free. Infinity Blade has won several awards, including the 2011 Apple Design Award. The app is the first mobile game to be powered by the Unreal Engine 3, taking the graphics to a new level.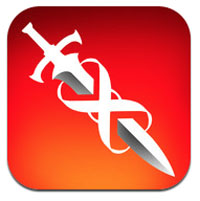 If you haven't played Infinity Blade yet, the game uses touch screen gestures to battle opponents with a variety of weapons and magic rings. Gameplay involves building up the attributes of your character as well as accumulating credits to purchase better weapons.
The entire realm is 3D although its cinematic design limits actions to specific items and areas. Ahead of the game's release in 2010, there was plenty of hype and the visuals were touted as the best in any mobile game. Infinity Blade has enjoyed immense popularity across many iOS devices, including the iPhone 3GS and later, the iPod touch 3G and later and the iPad.
If your device is running iOS 3.2 or later, get Infinity Blade free of charge from the iTunes App Store while you can. The sequel, Infinity Blade II is still selling for $6.99.