Submitted by Marshall Walker on
Earlier this year T-Mobile announced a plan to offer its customers more flexibility by eliminating cell phone subsidies, and the carrier has followed through by rolling out its no contract data plans over the weekend. Instead of subsidizing cell phones and locking customers into two-year contracts, T-Mobile users can now choose one of several monthly data options. The plans start at $50/month, all the way up to $110 for 12.5GB/month. There is also a $70 unlimited option, and each plan comes with unlimited talk, text, and tethering.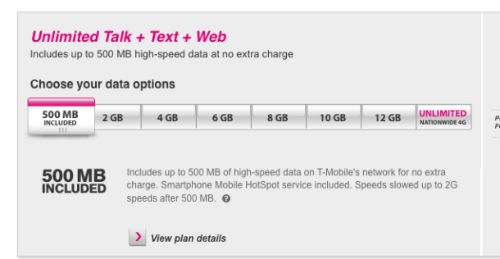 The catch is customers will be forced to pay full prices for new phones, but at least there will be an option to do it in installments. For example, you can secure a $400 phone with a small down payment, and make monthly payments until it's paid off. T-Mobile hopes this will be a better and cheaper option for customers than what AT&T, Verizon and Sprint are currently offering.
T-Mobile will detail the new changes at a special event on March 26th in New York. It's unknown if the carrier will unveil any details about its upcoming iPhone release.
Here's what the new plans look like:
- 500MB for $50
- 2.5GB for $60
- Unlimited with only 500MB of included tethering for $70
- 4.5GB for $70
- 6.5GB for $80
- 8.5GB for $90
- 10.5GB for $100
- 12.5GB for $110
You can learn more about or sign up for T-Mobile's new data plans at T-Mobile.com.