Submitted by Bob Bhatnagar on
Keyboard enhancements are no stranger to the iPhone. Besides cosmetic changes to the iOS keyboard, many jailbreak tweaks are aimed at simplifying and speeding up touch screen text entry. AltKeyboard and SwipeSelection are two popular examples. Now The Quick Brown Fox has arrived on Cydia, promising to further improve typing.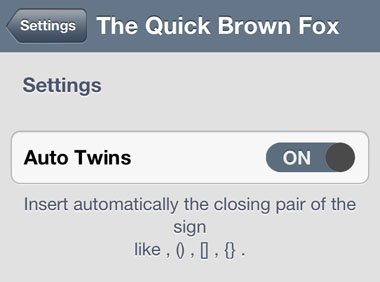 Once installed, there are three features of The Quick Brown Fox that can be configured on your iOS device. The first is Auto Twins, which automatically pairs certain characters. For example, typing a parentheses "(" will output "()" every time. While this can be useful, the cursor must be moved to the middle of the pair before adding text between the parentheses. With SwipeSelection installed this is easier to do.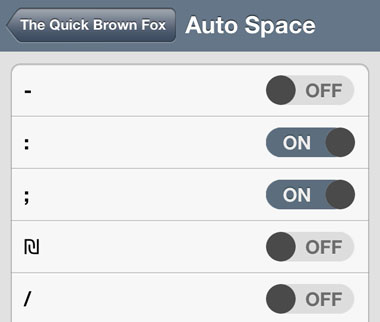 Auto Space is fully customizable, and will add a space automatically after certain characters are typed. This can save an extra tap after entering a colon or semicolon, or other keys. A list of 23 different keys can be used, not including a few characters from other languages such as Arabic, Greek, and Chinese.
Finally Jumping Keys can be defined. By default the apostrophe key is a jumping key, which means it automatically returns to the letters (ABC) keyboard when typed on the numbers (123) or symbols (#+=) keyboard. Any keys from the list can be added, making these keys Jumping Keys and speeding up access to the letters (ABC) keyboard.
On a side note for those not familiar, the name The Quick Brown Fox references a sentence commonly used to test typewriters, keyboards and font samples, including all 26 letters of the alphabet. The sentence reads, "The quick brown fox jumps over the lazy dog."
The Quick Brown Fox is available on Cydia from BigBoss free of charge. Check here for instructions on how to jailbreak iOS 6.x with evasi0n. You can also find out how to purchase and install Cydia tweaks with this guide.