Submitted by Frank Macey on
Finally, proof of the fingerprint scanning iPhone 5S home button has surfaced, assuming photos posted on Nowhereelse.fr are the real thing. Previously only the home button metal spacer was pictured, indicating a change to the home button internal design. Now the full iPhone 5S flex cable appears to have an embedded chip of its own.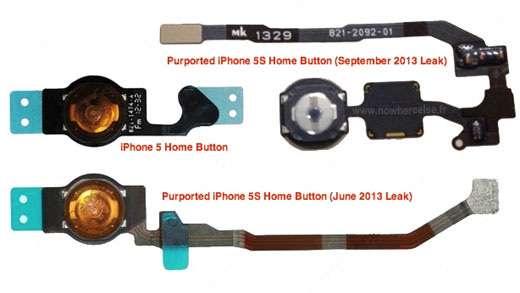 Not only this, but the purported fingerprint scanning sensor looks to be pictured as well. The other home button parts pictured don't have the same color or suspicious dark hole in the center. This could very well be the eye of the sensor, which is expected to be contained underneath a sapphire home button. The part leak comes to us just days before Apple is scheduled to announce the upcoming iPhone 5S and iPhone 5C.
According to several sources, the iPhone 5S home button will be convex to increase the surface area that can be scanned by the internal fingerprint sensor. The sensor itself is not optical, so dust and dirt should have a minimal effect on its performance. Sapphire was chosen as the material thanks to its scratch resistance, and Apple has already installed sapphire over the lens of the iPhone 5.
Assuming the part actually ships inside production models of the iPhone 5S, it looks to be a significant redesign. Serial numbers beginning with 821 also match previous iPhone parts, which adds to the likelihood that this part is real. A fingerprint sensor would allow iPhone 5S users to unlock their devices without manually entering a passcode. Unauthorized users would not pass the fingerprint scan.
We can expect more leaks in the coming days, before Apple officially reveals its next generation iPhones at a special event in Cupertino on September 10.