Submitted by Bob Bhatnagar on
Does your jailbroken iPhone have a long list of alarms set up in the Clock app? Sometimes things can get disorganized, with some alarms on and others off. Scrolling through this list is easy enough, but the AlarmControl tweak makes things even easier. All alarms can be toggled immediately with just one button at the top of the screen.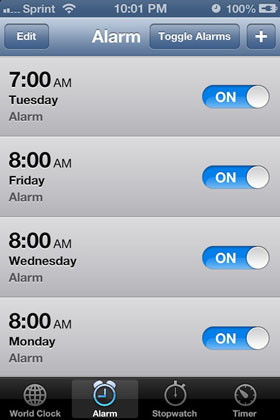 Once installed, AlarmControl will add this Toggle Alarms button to the Clock app, right next to the add new alarm (+) button. Tap the toggle once, and all alarms are off. Tap it again, and every alarm will be turned on, it's that simple. Imagine going on vacation and touching a single button to keep your iOS alarm clock silent for the entire trip.
AlarmControl has no settings to configure, and will not install an icon on the home screen. While some jailbreak tweaks add complexity to iOS, others simplify things to an extreme. Although this tweak may not be the most useful on Cydia, heavy alarm clock users will enjoy the enhancement. Best of all, this straightforward jailbreak tweak costs nothing for iOS 6 users on a jailbroken device.
AlarmControl is available on Cydia from the BigBoss repo free of charge. Check here for instructions on how to jailbreak iOS 6.x with evasi0n. You can also find out how to purchase and install Cydia tweaks with this guide.