Submitted by Bob Bhatnagar on
Frequent Do Not Disturb users might be wondering how they can gain more control over the feature. Luckily for those running iOS 6.1.2 or earlier the DNDPro jailbreak tweak does the trick. Installing this free package will add two new options to the stock Do Not Disturb settings. These same items will also appear in their own location under Settings -> DND Pro.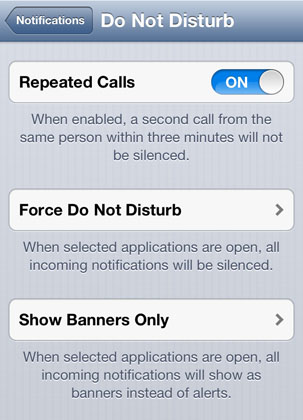 DNDPro revolves around enabling Do Not Disturb mode while using specific apps. This means that notifications can be turned off automatically while an application is in use on the device. Closing the app will turn Do Not Disturb mode off again, resuming normal alerts and phone calls.
Force Do Not Disturb makes it possible to select which apps on your device will enter DND mode and hide all incoming notifications while in use. Alternatively, the option Show Banners Only will do just that, and only display banners for incoming notifications, instead of alerts. Normal DND settings only provide for scheduling times when the mode is enabled.
DNDPro definitely adds more functionality to stock Do Not Disturb, even if the tweak is somewhat one dimensional for costing $0.99. DNDPro is available on Cydia from the ModMyi repository. Check here for instructions on how to jailbreak iOS 6.x with evasi0n. You can also find out how to purchase and install Cydia tweaks with this guide.