Submitted by Sammy Snyder on
Control Center is a great and fast way to access important settings in iOS 7, but it can be really annoying if you accidentally open it while playing a game or using an app.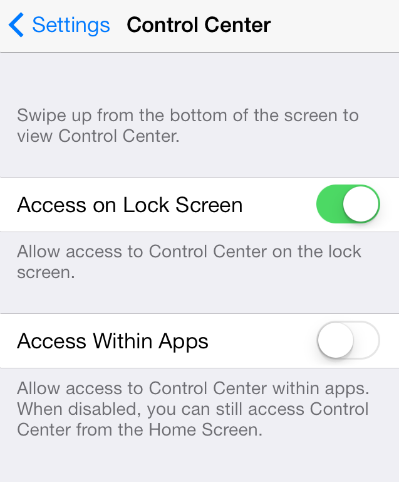 iOS 7 allows you to easily open Control Center by swiping up from the bottom of your screen, which is the same motion a lot of games use for its touch based controls. This can cause a lot of headaches especially when playing endless runner titles, or other games that require you to swipe up to jump. Luckily Apple had enough foresight to offer an easy fix to this problem.
You can disable Control Center access within an game or an app by navigating to Settings > Control Center and taping the "Access within Apps" slider. This will disable the ability to access Control Center while you're playing a game or using an app.