Submitted by Bob Bhatnagar on
Not everyone has fallen in love with the redesigned iOS 7 icons. While the latest iPhone firmware from Apple has many functional improvements, bringing back the old iOS 6 app icons is not an option. That is unless your iOS 7 device has been jailbroken with evasi0n 7.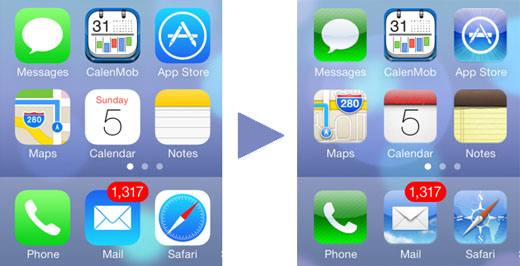 WinterBoard makes it possible to change the cosmetics of iOS 7 with themes. The theme pictured above from developer Jailbreakstyle is appropriately named iOS 6 Icons For iOS 7 Theme. This free theme can be used in conjunction with WinterBoard to bring back iOS 6 icons on stock home screen apps.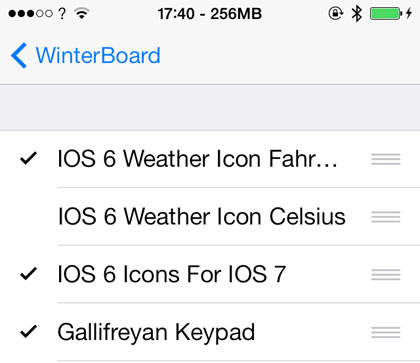 Once installed from Cydia, iOS 6 Icons For iOS 7 appears under Settings -> WinterBoard -> Select Themes. Select the main iOS 6 theme and choose between the celsius or fahrenheit Weather app icons. The options in the list with check marks will be activated. To reveal the new theme and revert to iOS 6 icons, tap WinterBoard in the upper left corner, then tap Respring.
Bringing back iOS 7 home screen icons is simple, just reverse the process with WinterBoard settings to deactivate the iOS 6 theme.
iOS 6 Icons For iOS 7 Theme is available on Cydia from the BigBoss repository free of charge. Check here for instructions on how to jailbreak iOS 7.x with evasi0n 7. You can also find out how to purchase and install Cydia tweaks with this guide.