Submitted by Anders Batten on
It has been a busy few days for the Deutsche Telekom-owned T-Mobile. The Uncarrier recently paid $2.37 billion for blocks of Verizon Wireless' 700MHz spectrum, and its own CEO John Legere was kicked out of AT&T's CES party on Tuesday. Legere also took to Twitter to accuse AT&T of copying T-Mobile, and he released a statement in response to AT&T's new plan to pay T-Mobile customers $450 worth of credit to switch carriers.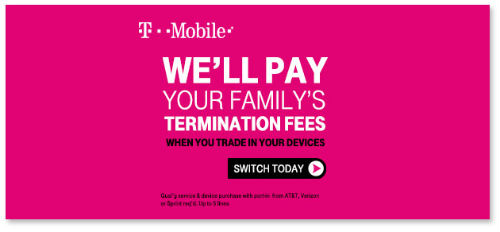 "This is a desperate move by AT&T on the heels of what must have been a terrible Q4 and holiday for them. I'm flattered that we have made them so uncomfortable! We used AT&T's cash to build a far superior network and added Un-carrier moves to take tons of their customers – and now they want to bribe them back!"

"Consumers won't be fooled…nothing has changed; customers will still feel the same old pain that AT&T is famous for. Just wait until CES to hear what pain points we are eliminating next.
A leaked ad spotted by Droid Life suggests that T-Mobile is ready to counter AT&T's offer with its own incentive to switch carriers. According to a banner that briefly appeared on T-Mobile.com, T-Mobile will "pay your family's termination fees when you trade in your devices."
The small print of the ad said T-Mobile will accept customers from AT&T, Verizon and Sprint and that it will transfer up to five lines. Droid Life also points out that there will probably be some kind of cap on how much T-Mobile will pay in early termination fees.
The new plan is expected to be revealed at T-Mobile's UnCarrier 4.0 event taking place today at 12:30PM PT.