Submitted by Chad Shmukler on
Navizon, who released a third-party software GPS solution for the iPhone a few months ago, announced today that it is offering a new, free version of it's software. The previous version of the Navizon software offered a 15-day free trial after which the software expired. The new version will switch to a 'Lite' mode after the trial expires and allow users to continue enjoying Navizon's GPS services, albeit in a dumbed-down fashion.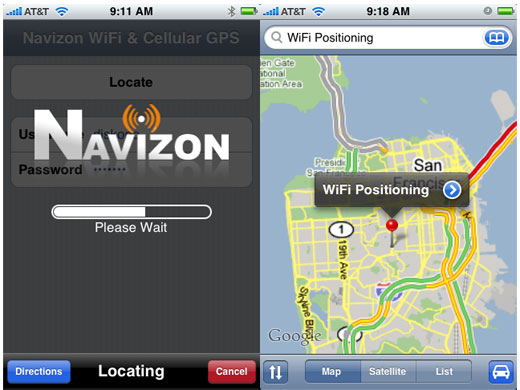 The new Navizon Lite is basically a less accurate version of the fully-functional Navizon software. Instead of providing what Navizon claims to be the 10-30 meter accuracy of the full version of Navizon, Navizon Lite provides approximately 1500 meter accuracy (roughly a mile).
Essentially, Navizon Lite is Navizon without WiFi positioning. This limits Navizon's positioning abilities to cellular tower
triangulation, thus the reduced accuracy. While not terribly useful in urban settings, the lite version of the Navizon software may do the trick for those of you who just need basic location services when traveling.
The lite version of Navizon also omits the "trail" feature that is included in the full version of Navizon, which tracks your iPhone as it moves. However, the buddy list/locator and "rewards" features of the full version are still included. Navizon Lite is also available for Windows Mobile, Symbian/Nokia and Blackberry devices.