Can I record slow motion video on the iPhone 5?
Slo-mo video is a feature on the iPhone 5s camera, which is capable of recording 120 frames per second. Video can then be slowed down to quarter speed, providing the option for slow motion highlights.
This feature is normally limited to the iPhone 5s, and is not available on stock iOS 7 running on the iPhone 5 or iPhone 5c. Jailbreakers, however can activate this function with the tweak Slo-mo Mod.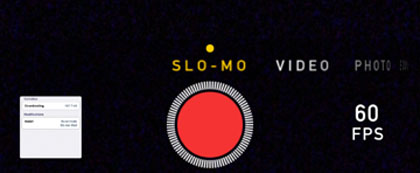 The iPhone 5 and iPhone 5c can record 60 frames per second, which makes it possible to make half speed highlights in slow motion. Slo-mo Mod is available on Cydia free from BigBoss. Look here for instructions on how to jailbreak iOS 7.x with evasi0n 7. You can also find out how to purchase and install Cydia tweaks with this guide.