Submitted by Fred Straker on
Creating the perfect custom look on a jailbroken iPhone can involve several different tweaks and themes. For those looking to replace the stock battery icon on the iOS 7 status bar, the tweak Alkaline provides many add-on options. Applying different battery icons once they're installed does not require WinterBoard, just a change to the Alkaline settings and a respring.
To start theming the iOS battery icon, install the free tweak Alkaline from Cydia. Alkaline comes with three included themes: Bolus, Spots, and Habesha. Alkaline will add its own section under Settings where battery themes can be applied. To change the battery theme, navigate to Settings -> Alkaline -> Theme and select from the list of installed themes, then tap the Respring button.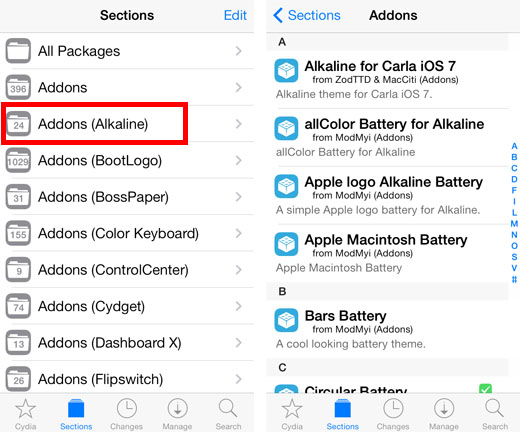 To get more options, open Cydia and navigate to Sections -> Addons (Alkaline). There are currently 25 options for battery theming with Alkaline. Once the new theme is installed, it will appear with a preview icon in the list of themes under Settings -> Alkaline. While some of the available battery icons are meant to be used with matching WinterBoard themes, they can all be installed independently for free.
Alkaline itself is available on Cydia from the ModMyi repository for free. For those who wish to donate, developer magn2o has a special section in the Alkaline settings to connect donors to organizations that research cures for Neuroblastoma, a form of pediatric cancer.
Check here for instructions on how to jailbreak iOS 7.x with evasi0n 7. You can also find out how to purchase and install Cydia tweaks with this guide.