Submitted by Marshall Walker on
Disney Mobile's Where's My Water is the perfect example of a mobile game done right. A onetime fee of $1.99 nabs you a fun and addicting game without timers or money wasting in-app purchases. The same goes for its sequels and spin-offs Where's My Water 2, Where's My Perry? and Where's My Mickey. If you're not wore out of the many Disney physics puzzlers, the company has released another Where's My Water game featuring the popular Chinese cartoon character, XYY.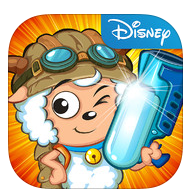 Where's My Water? Featuring XYY is another puzzle game that takes players through a medieval adventure through China. Instead of rerouting water to Swampy, XXY must use elements such as fire and oil to defeat the Big Bad Wolf. The game features more than 80 levels and the ability to find "ancient collectibles" to unlock extra levels.
Where's My Water? Featuring XYY is available for only $0.99 on the App Store. The game requires iOS 6.0 or later and does not support 4th generation iPod touch, iPhone 3GS or original iPad. Here's the official trailer: