AAPL shares value had a relatively uneventful week last week, opening at $521.68 on Monday 4/14 and closing at $524.99 on Friday. This week should be more eventful since Apple will be releasing its Q2 FY 2014 earnings report at 5 PM Eastern this coming Wednesday, 4/23. You can access an audio webcast of the announcement at Apple's Investor Relations page.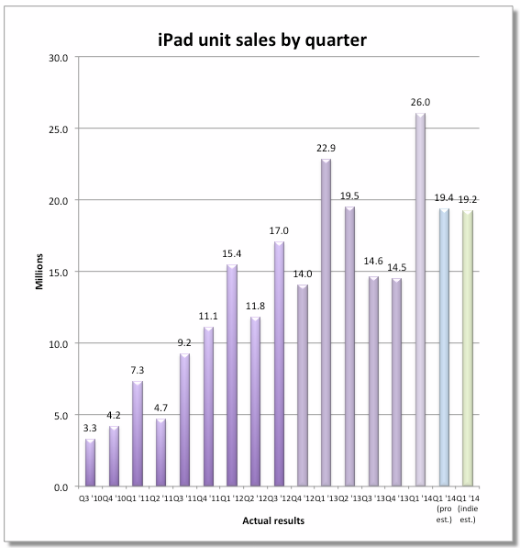 Apple's Q2 guidance that was released in late January (and promptly caused the stock price to tumble) called for revenue between $42 and $44 billion. Fortune's poll of analysts returned an average revenue estimate of $43.5 billion. Many of
those analysts also expect Apple to report a decline in iPad sales.
Another sales-relevant news item last week - the iPhone 5c became available in 14 new countries. Not too long ago many analysts thought Apple was going to discontinue the 5c.
Apple is also attempting to boost its song download sales by adding a
song identification feature
to iOS 8. The company has partnered with Shazam for the project.
The third week of the Apple vs. Samsung patent trial wrapped up on Friday with Samsung calling experts to the stand to support the Korean company's assertion that Apple's claim of $2.2 billion of damages is a gross exaggeration.
Early upgrade programs at AT&T and Verizon prompted analyst Keith Bachman of BMO Capital Markets to issue a note to investors informing them that he believes these programs will result in an additional 5 million iPhone sales in FY 2014.
On Thursday Morgan Stanley analyst Katy Huberty said that now is the time to by Apple stock. She said that the company has been "de-risked" in the months leading up to its 2014 product releases. She also believes that Apple's recent investments suggest the company will enter new product categories, which will result in growth.
For this week, look for share prices (NASDAQ: AAPL) to move following the company's earnings report on Wednesday just after the market closes. Which way will depend on the report.