Submitted by Fred Straker on
There are many ways to customize the process of unlocking the iPhone. While each may have its advantages, nothing is quite like Stride 2 from Adam Bell. Jailbreakers can create a unique, custom gesture that must be copied to unlock. The tweak is fully compatible with normal passcodes and the Touch ID sensor, so these can still be used to unlock if desired.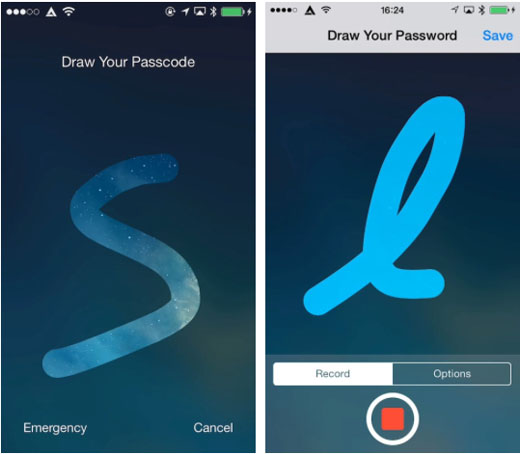 Stride originally made a splash on iOS 5, and now the iOS 7 version brings a complete redesign to jailbroken devices. Once installed, Stride 2 can be enabled or disabled with a toggle under Settings -> Stride -> Enabled. To start, enable the tweak and tap Change Password in the settings.
Under the Options button, Stride can be configured for different levels of recognition strictness. Very High is the most secure setting, which will require that the gesture match more perfectly. More lax options include High, Medium and Low. Practice drawing your preferred unlock gesture and tap the red record button to begin.
Once the gesture is entered, the recognized path will be highlighted in green. Stride will prompt to re-draw the same gesture two more times. Once the gesture has been drawn a total of three times the new password is in effect.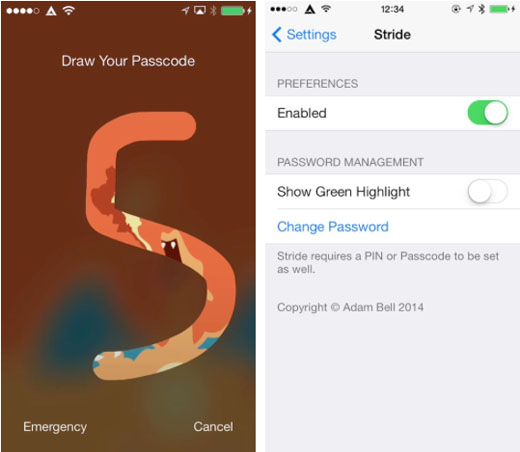 From now on, the device can be unlocked by swiping to the right on the lock screen. This will bring up the Stride interface, where the custom gesture is drawn. A match will unlock immediately with a zoom animation. Settings -> Stride -> Show Green Highlight will duplicate the green highlight that appears when recording the gesture during each unlock process, replacing the zoom animation. To use the normal passcode instead of drawing your gesture, tap Cancel and the keypad will appear.
Stride 2 (iOS 7) is available from Cydia on the BigBoss repo for $2.99. Check here for instructions on how to jailbreak iOS 7.x with evasi0n 7. You can also find out how to purchase and install Cydia tweaks with this guide.