Submitted by Sammy Snyder on
Two games broke the $10 price mark on the App Store this week. Civilization Revolution 2 and Capcom's Monster Hunter Freedom Unite both made their iOS debut at $14.99 each. While this isn't the highest prices we have seen on the App Store, it does show that developers are still willing to release games that are not driven by micro-transactions. In other mobile gaming news, Rayark released a trailer for its upcoming 3D action game, Implosion. The entire Infinity Blade series has been discounted for the 4th of July. You can nab Infinity Blade for $0.99, Infinity Blade II for $1.99 and Infinity Blade 3 for $2.99.
Here are this week's games, apps and jailbreak tweaks released the the App Store and Cydia through 06/29/14 to 07/05/14. Apple's Free App of the Week is Day One. The journal app will be free on the Apple App Store until 07/10/14.
Monster Hunter Freedom Unite: $14.99 for the iPod touch, iPhone and iPad (Requires iOS 6.0 or later) Rated 12+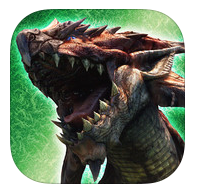 This is a port of the handheld Monster Hunter game released to the Sony PSP in 2009. The high price tag may turn off some people from downloading the title, but you're basically paying $15 for a game that would normally cost you $40 if your bought it for the PSP. The game features new controls and improved graphics for iOS devices, and it has no hidden costs or in-app purchases. There is also a 4 player co-op mode.
App Store Link
Kawaii Killer: $2.99 for the iPod touch, iPhone and iPad (Requires iOS 5.1 or later) Rated 12+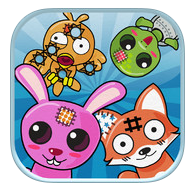 The official App Store description describes Kawaii Killer as "Hello Kitty meets Mortal Kombat", but the screenshots immediately reminded me of the South Park "Woodland Christmas Critters" episode. The object of the game is to kill as many cute animals as possible, but it's not as easy as it sounds because players must use a different technique for each individual animal they encounter. For example, frogs need to be torn apart using two fingers, and rabbits require a swiping motion to be sliced and diced. Just look at these hilarious screenshots: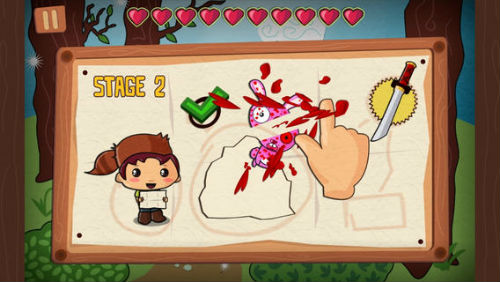 Civilization Revolution 2: $14.99 for the iPod touch, iPhone and iPad (Requires iOS 7.0 or later) Rated 12+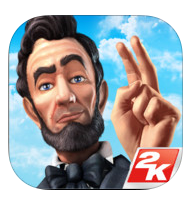 This is being called a sequel, but some are complaining it is just a rehash of the original Sid Meier's Civilization. Unlike the original, Civilization Revolution 2 was designed specifically for mobile devices. The game features the same 16 historical leaders as its predecessor, but adds some news faces like Churchill and Kennedy. It also has new 3D graphics, new units, and new technology to help you build your empire from the ground up.
More App Store Releases
- Hyper Tap: Free (Universal) Twitch reflex game where you dodge neon barriers
- Polymo: $1.99 (Universal) "A a better place for you to capture, curate and remember life's many moments"
- Hooligans "The Bravest": $2.99 (Universal) A soccer themed fighting game
- Tinker - Tweak Your Productivity: $0.99 (Universal) Improve your productivity
- Denny's Atari Remix: Free (Universal) ***App of the Week*** (Only available for a limited time) Classic Atari games re-imagined as breakfast
- Watercolors: Free (Universal) Painting puzzle game
- Munchin' Mike: Free (Universal) Jumping game where you stuff yourself with delicious snacks
- Magick: $0.99 (iPad) Platformer with over 60 levels and fice boss battles
- MTN: $0.99 (Universal) Ambient procedural mountain game
- ToneStack: $4.99 (Universal) "Signal processing: with the largest variety of amps and FX, the latest advancements in modeling technology"
- Buzz Killem: Free (Universal) Side-scrolling shooting game
- The Bearded Hero: $1.99 (Universal) Puzzle game with 35 levels
New Cydia Tweaks
- Aslock ($0.99) Adds new functionality to Spotlight search
- Interactive Message Notifications ($0.99) Adds iOS 8 quick reply
- ColorfulVolume (Free) Change the color of your volume HUD
- IntelliScreenX iOS 7.1.1 is now available on Cydia
Noteworthy App Updates
- Facebook Messenger Version 7.0 adds full iPad support
- Puzzle Breaker for iOS Version 1.2.0 adds new levels and EveryPlay support