Submitted by Bob Bhatnagar on
One of the key jailbreak tweaks since iOS 5 has been IntelliScreenX. Calling it a tweak is actually an understatement considering how profoundly it expands the functionality of the lock screen and Notification Center. Developer Intelliborn has released iOS 7.1.x support for those jailbreaking the latest version of iOS with Pangu.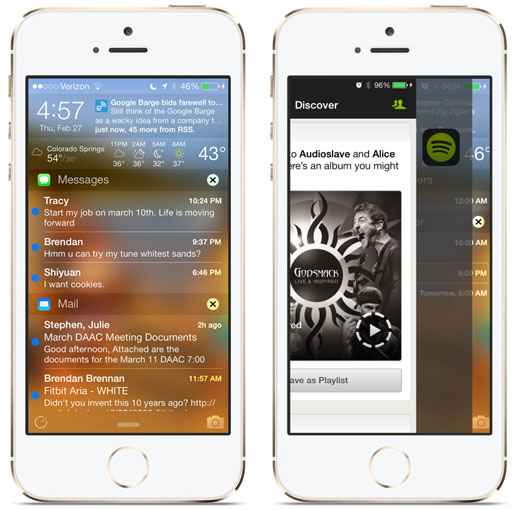 This is great news for anyone interested in seeing what Intelliborn calls "The reason to jailbreak iOS 7". A three-day free trial means new users can try it out before they drop any cash on Cydia. Discounts on the $9.99 purchase price are available for users who have previously bought the tweak.
With integration into the lock screen and Notification Center, IntelliScreenX makes it possible to view a wealth of information in one place. Email, Facebook, Twitter, RSS feeds, Calendar and Messages can all be viewed and interacted with directly. Messages+ for quick reply and compose comes with the package, along with the Swipe app switcher. In addition to iOS 7.1.x support, version 7.10.5 incorporates several bug fixes to improve the user experience.
IntelliScreenX 7 is available on Cydia from the ModMyi repository for $9.99, with a three-day free trial. The upgrade for IntelliScreenX 6 users is free. Those who were IntelliScreenX users can grab the upgrade for $4.99, and original IntelliScreen users can upgrade for $7.99.
Jailbreaking
iOS 7.1.x is now possible with Pangu
. Check here for
instructions on how to jailbreak iOS 7.0.x with evasi0n 7
. You can also find out
how to purchase and install Cydia tweaks with this guide
.