Submitted by Marshall Walker on
Adult Swim has made many popular games like Robot Unicorn Attack and Five Minutes to Kill Yourself, but their best game released this year has to be Castle Doombad. The reverse tower defense game is absolutely worth $2.99, but now anyone can download it for free thanks to the newly released Castle Doombad: Free to Slay edition.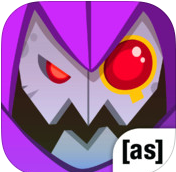 The Free to Slay edition is the same as the premium edition except it is supported by ads and has in-app purchases such as Doom Shekel packs. In the game, you must stop various heroes from rescuing the princess from your evil lair. You do this by equipping your castle with traps like floor spikes and even "overactive air conditioners". You also have a small army of cute minions at your disposal to help defend your castle.
Everything about Castle Doombad is great: the game play is easy, it is challenging, the graphics look amazing, the characters are fun, and so on. The Free to Slay edition features over 60 levels, including the bonus Summer Slaycation chapter, and an endless mode. There are also 26 Game Center achievements to win and lots of replay value.
Castle Doombad: Free to Slay is available now on the App Store for free, or you can buy the ad-free version for $2.99.
If you need more convincing, you can read our original review of the game
here
.