Submitted by Bob Bhatnagar on
Some jailbreak tweaks are devoted to the details, polishing the user experience even further than stock iOS. One such tweak is MarkAsRead7, which supports jailbroken devices running iOS 7.1.x. MarkAsRead7 has just one function, eliminating what has become a pet peeve for some Notification Center users.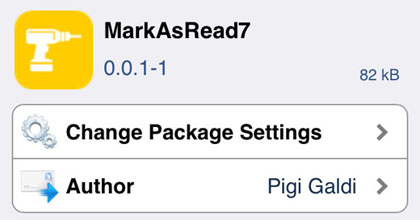 Normally when clearing notifications from the Notification Center, icon badges for the associated app on the home screen are not cleared. For example, until a message is actually read in the Messages app, the icon badge remains. Once installed, MarkAsRead7 hides badges for these cleared notifications immediately.
There are no settings or options to configure. MarkAsRead7 simply removes these stray badges that are associated with cleared notifications in the Notification Center. Since the tweak has no toggle to disable its actions, to quit clearing these badges it must be uninstalled via Cydia. Any outstanding icon badges that are hidden when the tweak is uninstalled will actually reappear on the home screen.
MarkAsRead7 is available on Cydia from the BigBoss repo for free. Jailbreaking iOS 7.1.x is now possible with Pangu. Check here for instructions on how to jailbreak iOS 7.0.x with evasi0n 7. You can also find out how to purchase and install Cydia tweaks with this guide.