Submitted by Bob Bhatnagar on
The jailbreak tweak 3D Touch Notifications offers a new way to interact with iOS notifications from the Notification Center or lock screen. Once installed, peek and pop on the iPhone 6s and 6s Plus can be accessed from the Notification Center just like native 3D Touch. A press will preview the notification contents, and a deep press opens the app.
The main gesture on the lock screen is slightly different from typical 3D Touch features, requiring a press and a small swipe up to open the peek window. Swiping up further during the press offers pop options, making it possible to interact with the notification or open the relevant app.
Settings include a toggle to disable the tweak entirely, and individual toggles to enable 3D Touch Notifications for specific apps. Built-in support for the following apps is included:
Calendar: peek and pop
FaceTime: peek and pop
Mail: peek and pop (when unlocked)
Messages: peek and pop
Phone: peek and pop
Recents 2: peek and pop (requires jailbreak tweak Recents 2)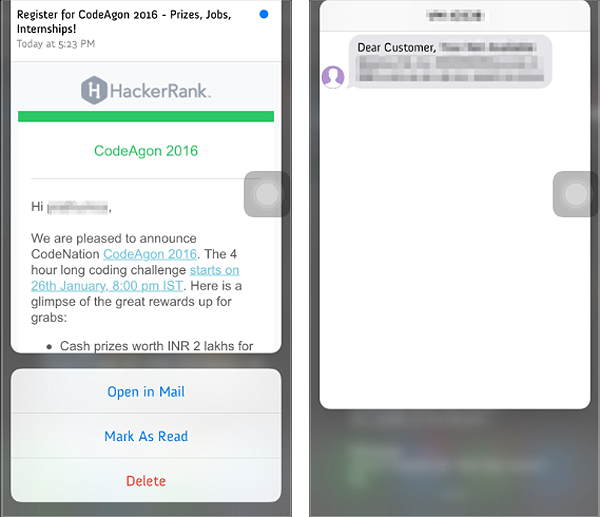 Developer IArrays describes 3D Touch Notifications as the "best in class previewer for notifications on your Notification Center." For those with older devices, RevealMenu is compatible with 3D Touch Notifications. RevealMenu simulates 3D Touch on iPhones prior to the iPhone 6s and 6s Plus by triggering 3D Touch with a long tap and hold.
3D Touch Notifications is free on the Cydia app store. To start customizing iOS,
click here for instructions on how to jailbreak iOS 9 with Pangu
. Find out
how to purchase and install Cydia tweaks with this guide
.
Don't forget to follow iPhoneFAQ on Twitter and connect with us on Facebook for the latest jailbreak tweaks and news.