Submitted by Bob Bhatnagar on
Ever notice that interrupting the stock Music app in iOS resets playing tracks? After closing the app or respringing the device, Music restarts all tracks from the beginning. Now with the free jailbreak tweak BookSong, track positions can actually be bookmarked to resume later.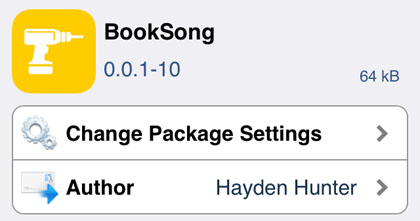 With no options or settings to configure, BookSong adds the ability to resume where you left off to the stock Music app. Once installed, when a track is interrupted, the exact position when play was stopped is saved.
Not only this, but multiple tracks can be stopped and resumed in this way. The tweak will automatically save your position in multiple tracks, so they can be picked up when the Music app is reopened. Note that when Music is running in the background, it saves a pause position on the current track. Reboot the device or kill the app, and that's where BookSong will work its magic, preventing the spot from being lost.
BookSong is available free from Cydia on the BigBoss repo. Jailbreaking iOS 7.1.x is now possible with Pangu. Check here for instructions on how to jailbreak iOS 7.0.x with evasi0n 7. You can also find out how to purchase and install Cydia tweaks with this guide.