Submitted by Bob Bhatnagar on
There is a versatile jailbreak tweak called AppControl, which allows the user to control various settings for individual apps. Jailbreakers are used to having more control over their devices, and AppControl is another way to add customization to iOS. With AppControl installed, key settings such as brightness and volume can be pre-determined for each app ahead of launch.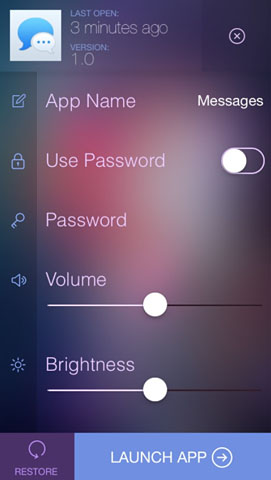 This means after installation and configuration, the tweak AppControl will automatically set the volume and brightness to presets depending on which app is launched. The concept behind the tweak makes sense, since iOS by default will use the same display brightness and volume across all apps. For example, if the user typically reads only at night, with AppControl the iBooks app can be configured with a low brightness setting automatically.
There are other useful features included in AppControl. Not only can brightness and volume be configured for individual apps, but App Control makes it possible to passcode protect any app. This means that opening a protected app will require the passcode. For additional security, the preview in the app switcher can be blacked out to prevent anyone from seeing a screenshot.
Last but not least, anyone with the AppControl package installed can rename apps on the home screen. Accessing the AppControl interface involves simply swiping up on any app icon on the home screen. Of course, there is a Restore button to bring individual app settings back to the default in one step.
AppControl is available on Cydia from the BigBoss repo for $1.99.
Jailbreak iOS 7.1.x with Pangu
to start customizing iOS. Check here for
instructions on how to jailbreak iOS 7.0.x with evasi0n 7
. You can also find out
how to purchase and install Cydia tweaks with this guide
.