Submitted by Bob Bhatnagar on
Enhancing Snapchat and removing some of the app's restrictions has become a full time job for some jailbreak developers. The latest addition to the growing collection of Snapchat tweaks is dubbed GhostPrefs. Those with jailbroken devices can get a ton of new options in Snapchat after installing this free mod from Cydia.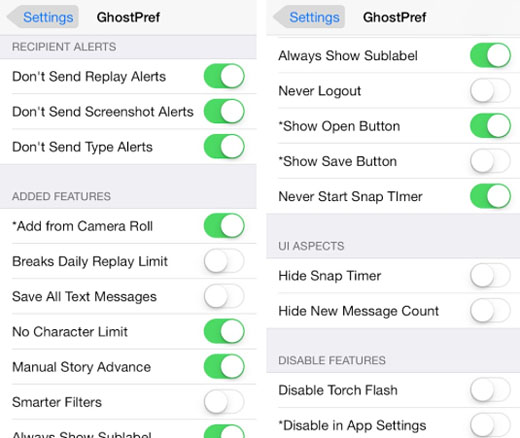 Snapchat is known for its ability to automatically delete messages after a preset time. Taking a screenshot of a photo or video will normally notify the sender that this activity has taken place. Perhaps the most sought-after option included in GhostPrefs prevents Snapchat from sending an alert when screenshots of a message are captured.
Besides getting around this feature, the tweak includes an option to permanently save all sent or received messages. The daily replay limit, the character limit, and the requirement to use Location Services can all be removed using GhostPrefs. Several other options are included, such as suppressing type alerts, shutting off auto advance, and disabling sounds.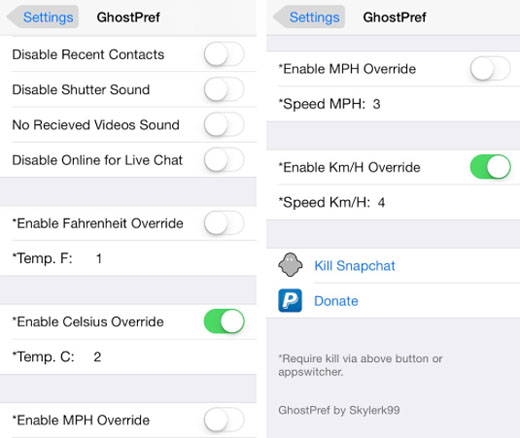 Once installed, new settings can be accessed from Settings -> GhostPref and will take effect when Snapchat is restarted. There is even a convenient Kill Snapchat button under settings to speed up the process.
GhostPrefs is available on Cydia from the BigBoss repository for free.
Jailbreak iOS 7.1.x with Pangu
to start customizing iOS. Check here for
instructions on how to jailbreak iOS 7.0.x with evasi0n 7
. You can also find out
how to purchase and install Cydia tweaks with this guide
.