Submitted by Marshall Walker on
Now that the dust has settled from Apple's latest product announcement lets look at the company's newest addition, the Apple Watch. If you were busy on Tuesday and rather watch the keynote yourself, you can watch the entire video here.
The biggest question about Apple's new wearable device is if it is worth buying. The Apple Watch is going to be released in several versions or collections starting at $349 in early 2015. This is good news for Apple fans who wanted to buy an iPhone 6 and Apple Watch because it gives you time to save some money between product launches. The iPhone 6 and iPhone 6 Plus will be available on September 19 starting at $199.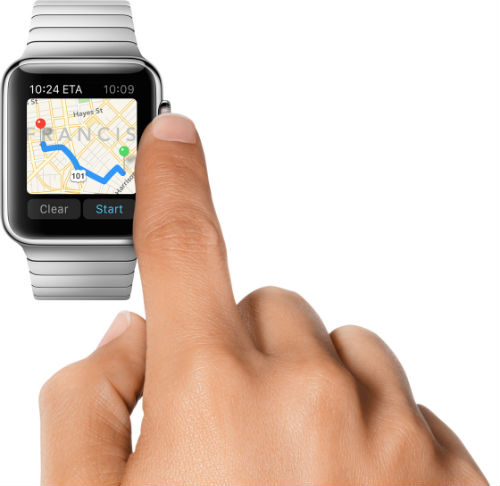 Specs
The Apple Watch will be available in two sizes, small (38mm) and large (42mm). It is equipped with a Digital Crown that will act as the device's Home button, a sapphire display, a water-resistant speaker and four sensors on the back for the heart-rate monitor and accelerometer. The Apple Watch supports Siri for voice commands and it includes a Glance feature for quickly checking weather updates and other information. You will also be able to check notifications by simply lifting your wrist and control music on your iPhone.
Collections, Bands and Faces
Watches these days are more of an accessory than a timepiece, and users are going to want more options than just three colors. Apple understands this and is offering its smartwatch in three collections: Apple Watch, Apple Watch Sport and Apple Watch Edition.
The Apple Watch is the basic collection that will cost $349. The watch will be available in 18 different stainless steel models.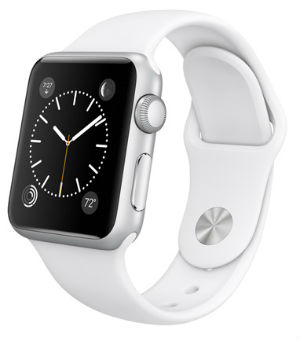 The Apple Watch Sport is for users who are going to put Apple's new Health app and the device's heart-rate monitor to good use. It features a lightweight anodized aluminum body and the display is reinforced with Ion-X glass. There will be 10 different models in this collection and it will be available in silver and space gray.
The Apple Watch Edition is all about the bling. The watch is made from 18-carat yellow or rose gold, and features a polished sapphire crystal display. This will be the priciest of all the models.
Apple Watch users will also be able to mix and match bands of various colors and styles. Apple plans to have 6 bands in different colors available at launch. The Milanese Loop is the only band style that does not offer a choice of color. Here are the band styles and colors that will be available in 2015.
Milanese Loop
Sport Bands: White, Black, Blue, Green, Pink
Classic Buckle: Black, Midnight Blue
Link Bracelet: Stainless Steel, Space Black Stainless Steel
Leather Loop: Stone, Bright Blue, Brown
Modern Buckle: Soft Pink, Brown, Blue, Bright Red, Rose Gray

The Apple Watch will have 11 digital faces to choose from: Chronograph, Color, Modular, Timelapse, Solar, Astronomy, Motion, Utility, Mickey Mouse, Simple and Photo.
What else can I do with the Apple Watch?
The Apple Watch features a Digital Touch option that lets you keep connected with your family and friends. You can access your contacts with a single touch, send them a message, draw a picture for them and even send them your heart rate information for some unknown reason. The smartwatch is also very geared towards fitness. It tracks your distance using Wi-Fi and GPS, it keeps track of your daily activity and it comes with a Workout app that counts calories burned and so on.
Do I need an iPhone to use the Apple Watch?
Yes. The Apple Watch requires an iPhone to work. It supports the iPhone 5, 5c, 5s, 6 and 6 Plus.
Is the Apple Watch worth buying?
This is Apple's first time entering this product category, and like all first-generation devices it will take a few generations to make it appealing to all consumers. Apple is also known for setting industry standards when it comes to new products, and the Apple Watch, just like the iPod and iPhone, will most likely be a status symbol and popular fashion accessory. The Apple Watch is also a well designed health and fitness tracker, if that's what you're looking for. Deciding if you should take the plunge on Apple's watch comes down to how much disposable income you have, if you like its design and what you need it for.