Submitted by Fred Straker on
Much of the speculation and confusion surrounding the Apple Watch battery has now been clarified, after a second round of announcements from Apple ahead of next month's product launch. There are many highlights, including the fact that a typical Apple Watch battery has a life cycle of three years. While the lithium-ion battery is not user-replaceable, it can be replaced by Apple.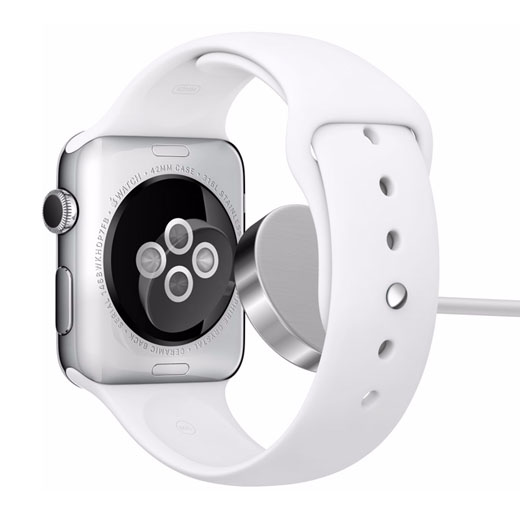 Pricing on an Apple Watch battery replacement remains unknown. But those wishing to refresh the battery in their Apple Watch will definitely save money over a complete upgrade of the device. In the meantime, everything the Apple Watch does will rely on a charged internal battery. So how long does it take to charge the Apple Watch?
Charging
According to Apple's internal testing, the Apple Watch can be fully charged in approximately 2.5 hours. Bringing the device up to an 80 percent charge level takes only 1.5 hours. Charging is achieved using the included MagSafe inductive charger, which automatically snaps into place thanks to built-in magnets.
Additional Magnetic charging cables can be purchased from Apple in two different lengths, with a 1m cable priced at $29 and 2m cable going for $39. Owners of the Apple Watch Edition will get a special Magnetic charging case that will dock the most expensive models while they are charging.
Battery Life
Apple describes battery life on the Apple Watch as an all-day affair,
up to 18 hours
. This number is based on specific use times for each function. To arrive at the 18-hour battery life, the following uses were performed:
- 30 minutes of workout with music playing over Bluetooth from Apple Watch
- 45 minutes using apps
- 90 time checks (this represents a 4-second time check every 12 minutes for 18 hours)
- 90 notifications (equivalent to a notification every 8 minutes for 12 hours)
Specific Tests
Individual tests were also conducted using each specific function below. Results follow:
- Calling talk time, 3 hours
- Music playback over Bluetooth from Apple Watch, 6.5 hours
- Workout with heart rate sensor, 6.5 hours
- Watch only (five 4-second time checks each hour), 48 hours (two days)
All of the above estimates are based on testing with the 38mm Apple Watch. Apple notes that 42mm models typically achieve longer battery life. Of course specific usage patterns, configurations, and environmental factors will affect real world results.
Power Reserve
When the battery is running extremely low, Apple Watch will compensate by entering Power Reserve mode. With this mode enabled, displaying the time is given first priority as power is conserved by shutting down other functions. Battery life when checking the time every 15 minutes (for four seconds) can be stretched up to 72 hours (three days). When Power Reserve has expired Watch OS will shut down until the device can be charged.