Submitted by Marshall Walker on
There were a lot of big app updates this week as developers caught up with iOS 8. Zynga's Words with Friends not only received a redesign for its fifth birthday, but it is also now called New Words with Friends. The popular word game now features a flatter interface and Solo Mode, which allows users to play alone without an internet connection. Temple Run 2 was updated with NFL players starting with Colin Kaepernick and Russell Wilson. Temple Run 2 with both Kaepernick and Wilson is now available for free on the App Store. Be sure to check out all of this week's noteworthy app updates at the bottom of this post.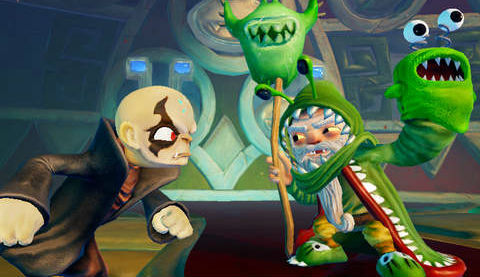 This week also saw a lot of big game announcements including trailers for Marvel Contest of Champions, Kingdom Rush Origins, Tilt to Live: Gauntlet's Revenge and Dead Mage Studio's Epic of Kings. You can watch all of these trailers at the bottom of this post.
One quick PSA, Apple is closing the date loophole in iOS 8.1 that allows users to install emulators like GBA4iOS. You can read more about the problem here.
Here are this week's games, apps and jailbreak tweaks released to the App Store and Cydia through 10/05/14 to 10/11/14. Apple's Free App of the Week is Jellies!. The game will be free on the Apple App Store until 10/16/14. Also don't forget to check out our best Halloween apps all month long.
Skylanders Trap Team:
Free for the iPad (Requires iOS 7.0 or later) Rated 9+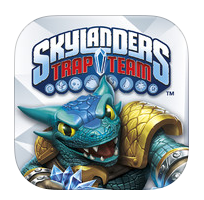 Activision has brought the full console version of its popular Skylanders franchise to tablets. The iOS version of Skylanders Trap Team includes two free digital characters, Instant Snap Shot and Instant Food Fight and two free digital traps. Additional characters and content can then be purchased as a physical Starter Pack or via in-app purchases within the game. The tablet Starter Pack includes an exclusive wireless game controller for tablets and all the other accessories needed to play the game.
Here's the official description of Skylanders Trap Team:
Kaos has blown up the walls of the feared Cloudcracker Prison freeing the most notorious villains in Skylands. It's up to you and the Skylanders to find and capture them. Using Traptanium™, a magic material that can harness the power of the Elements, you have the amazing ability to trap the villains and return them to Skylands to fight for you!
Diner Dash 2015 Edition: Free for the iPod touch, iPhone and iPad (Requires iOS 7.0 or later) Rated 4+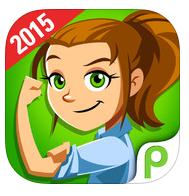 Diner Dash the "Brand New 2015 Edition" is really the same old game with in-app purchases. I gave it a quick spin and it seems like it can be enjoyed without spending any real world money, but prepare yourself to be harassed about sending Facebook invites and to buy upgrades / new equipment. For those who have never played Diner Dash, it is a classic, fun and addicting time management game where you play as Flo, the waitress and owner of a run down diner.
Rover Craft: Free for the iPod touch, iPhone and iPad (Requires iOS 7.0 or later) Rated 9+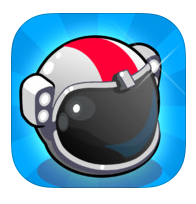 Construct your own rover craft and equip it with jet engines, reactors, super-wheels and other various upgrades then explore exotic planets. Be careful not to run out of fuel or get stuck on the side of a steep mountain.
Tasty Tower: Squishy's Revenge: Free for the iPod touch, iPhone and iPad (Requires iOS 6.0 or later) Rated 4+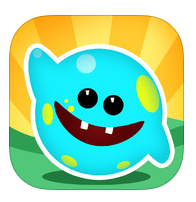 Help Squishy ascend the tasty tower and devour many treats. The game features 70 levels over 7 different worlds, a survival mode, different outfits to unlock for Squishy and Rainbow blast power ups.
More App Store Releases *The listed prices are launch prices and are subject to change.
- Buff Knight - RPG Runner: $1.99 (Universal) Take on the Red Vile Dragon and his minions with the Buff Knight
- Cars: Fast as Lighting: Free (Universal) Official Disney / Pixar Cars game by Gameloft
- Castaway Paradise: Free (Universal) Like Animal Crossing
- Crimsonland HD: Free (Universal) Top down shooter with 60 missions of alien, mutant lizard and giant spider blasting action
- Crystal Reign Pocket: $0.99 (Universal) Prepare for the onslaught by building a tower filled with a variety of magical technology capable of reducing that army to shrapnel
- Reflect+: $1.99 (Universal) "Reflect is a fun and simple way to add reflections and create beautiful photos"
- Yovo: Free (Universal) Snapchat-like photo app
- Dragon Quest II: $4.99 (Universal) The second installment in the celebrated Dragon Quest series
- Find the Line: Free (Universal) "Transform simple lines into works of art with the swipe of a finger in this unique and beautiful puzzle game"
- Flic: $0.99 (Universal) Delete and manage camera roll photos
- Russian Front: $9.99 (iPad) Detailed WW2 strategy game that follows the failed German invasion of Russia
- Cycloramic for iPhone 6: $1.99 (iPhone 6) The panoramic photos and videos app seen on Sharktank for the iPhone 6. Does not work with the iPhone 6 Plus
- Tail Drift: $0.99 (Universal) 360 degree arcade racer
- iBomber 3: $2.99 (Universal) Pilot B-17 and Lancaster bombers while blowing up the enemy
- Reckless Racing III: $4.99 (Universal) The third title in the Reckless Racing series
- Zombie Highway 2: Free (Universal) ***APP OF THE WEEK*** Smash and blow up zombies who are attacking your car
- Skater: $4.99 (Universal) "Use the touch screen to directly control your shoes and board"
- Skullduggery!: $4.99 (Universal) "Play a Semi-Organic Autonomous Skull employed as a collection agent for the IRS. Using the elasticity of your own brain, flick yourself around the fortresses of the afterlife's biggest deadbeats"
- Terra Battle: Free (Universal) Grid-based strategy game with Anime characters
New iOS 8 Widgets
- Swarm by Foursquare Version 1.3 adds a widget that "gives you an at-a-glance look of a few of your nearby friends" from the Lock screen.
New Cydia Tweaks
- CallShortcut (Free) Add favorite Contacts to your Home screen
- CallBar ($3.99) has been updated with iOS 7.0 support
Noteworthy App Updates
- Flipboard Version 2.3.9 adds iPhone 6 and 6 Plus support
- Perfect365 Version 3.10.33 brings new animation premium content
- Cash Version 2.1 adds Bluetooth paymets
- Final Fantasy VI Version 2.0.0 adds Logitech PowerShell Controller support and other tweaks
- Chrome Version 38.0.2125.59 adds iPhone 6 and 6 Plus support and the ability to save files to Google Drive
- Weebly Version 3.0 adds all new iPad features:
• Create a website from scratch
• Intuitive drag & drop experience designed specifically for touchscreen
• Maximize creativity with a wide range of text, media and design elements
• Control and customize fonts, colors and background images, even upload your own logo
• Browse and upload images directly from your photo library
• Choose from over 100 beautiful themes
• Offline mode captures updates made without an internet connection
• Manage your website's SEO right from your iPad
• Save and sync work across devices so you can pick up where you left off on desktop or mobile
Game Trailers / Previews
Marvel Contest of Champions New York Comic Con Trailer
Epic of Kings Debut Trailer
Tilt to Live: Gauntlet's Revenge Trailer
Kingdom Rush Origins Teaser Trailer