Submitted by Bob Bhatnagar on
A major update to CallBar brings a complete redesign to the long-running jailbreak tweak. CallBar for iOS 7 makes multitasking while managing phone calls a breeze. The tweak is also fully compatible with FaceTime and FaceTime Audio calling.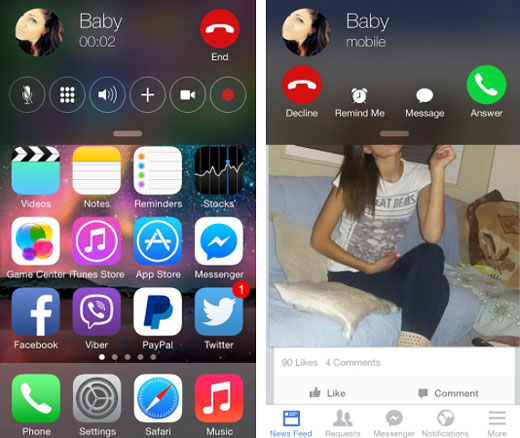 When first installed, CallBar will be invoked by a long press on the status bar. Any Activator gesture can later be assigned to CallBar, to suit user preferences. When CallBar appears at the top of the display, the Notification Center is easily accessible by dragging down like normal.
Any of the usual Phone or FaceTime app functions can be used directly from the CallBar, without opening the Phone app or navigating away from what you're doing in another app. Volume, mute, keypad, redial, Contacts and more can all be utilized directly from CallBar thanks to its integration into the Notification Center. Call time and the contact photo (if available) will also appear when on an active phone call.
When the CallBar is not being viewed, active calls are easily accessible by tapping call info on the status bar. Settings include options to toggle lock screen access, FaceTime, and the entire tweak on or off. There are also color options and the Activator gesture assigned to CallBar can be modified. Jailbreakers who are looking to upgrade their version of CallBar to CallBar for iOS 7 can do so free of charge.
CallBar for iOS 7 is available from the BigBoss repository on Cydia for $3.99.
Jailbreak iOS 7.1.x with Pangu
to start customizing iOS. Check here for
instructions on how to jailbreak iOS 7.0.x with evasi0n 7
. You can also find out
how to purchase and install Cydia tweaks with this guide
.