Submitted by Bob Bhatnagar on
Getting the perfect shot on an iPhone can sometimes require patience. Even with burst mode, the Camera app takes time to load up and display a preview before images can be captured. The jailbreak tweak QuickShoot Pro for iOS 8 changes all this, by making image and video capture nearly instant directly from the home screen.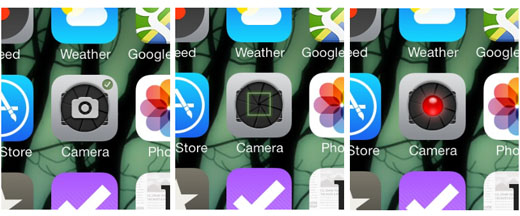 With QuickShoot installed, the Camera app icon acts as a capture button itself, without ever loading the normal camera user interface. Double tap to snap a photo immediately, or triple tap to begin recording video. The Camera app icon will change to illustrate what function is currently taking place. QuickShoot Pro for iOS 8 has ample settings to play with as well.
Any Activator gesture can also be configured to snap a photo or start recording video. This is especially useful for those who would prefer to configure a custom gesture to take pictures, instead of having to double tap the Camera app icon. There's also an option to associate an Activator gesture with the QuickShoot options window. Using this feature makes it possible to have camera settings such as HDR and flash appear as an overlay, right on the home screen for quick access.
These options can also be configured in the settings, which control how the camera behaves when QuickShoot is invoked to capture. Besides HDR and flash controls, options include front or back cameras, video quality, and an Anti-Blur feature. Anti-Blur will prevent the camera from taking a photo until the image is stable. Just remember, QuickShoot Pro starts capturing blindly, without a preview or viewfinder mode visible.
QuickShoot Pro iOS 8 is available from the BigBoss repository on Cydia for $1.49. The upgrade is free for existing QuickShoot Pro owners. To start customizing iOS,
click here for instructions on how to jailbreak iOS 8.0-8.1.1 with TaiG
. Those with older firmware can check
here for details on jailbreaking iOS 7.0 with evasi0n 7
.
Pangu will jailbreak devices running iOS 7.1
. Find out
how to purchase and install Cydia tweaks with this guide
.
For new tweaks and the latest jailbreak news follow us on Twitter and Facebook.