Submitted by Frank Macey on
Most of the Free buttons in the App Store have recently been changed to Get. Apple has quietly modified this feature of the App Store across all platforms. The move follows better delineation of apps that include In-App Purchases, which are often referred to as Freemium apps. Get may better describe the action of downloading, and avoid descriptions of what's actually free.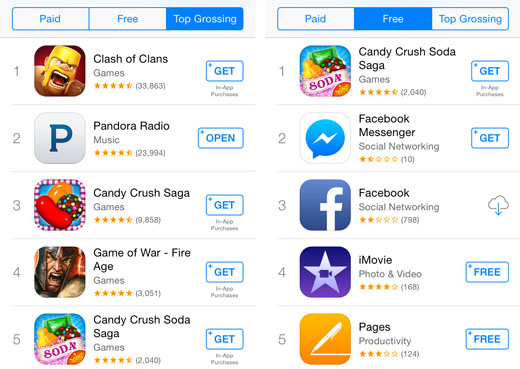 The Free buttons haven't entirely disappeared, however. Apple apps such as iMovie, Pages, Keynote, and Numbers are marked Free, presumably because they will never offer In-App Purchases. In contrast, third-party apps that do not offer In-App Purchases are still marked with the Get button.
In-App Purchases and the freemium model have come under fire in the past. Apple responded by adding the capability to turn off the feature entirely. Problems reported by users included parents who were complaining about large app bills being racked up by their kids. The App Store will also ask for an Apple ID password more frequently to prevent unauthorized use.
The Get button has been replacing the Free button in App Stores around the globe, as Apple rolls out the modification.