Submitted by Sammy Snyder on
The first episode of Telltale's highly anticipated six part episodic game series based on HBO's Game of Thrones television show is now available for iOS devices. Unlike Telltale's Walking Dead series, where players follow a different story line than the show, the Game of Thrones game features familiar characters from the television series and books. Players can play as different members of the House Forrester, a noble family briefly mentioned in the fifth book "A Dance with Dragons".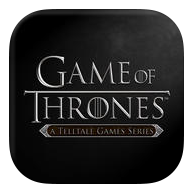 The game is a graphic adventure where a player's decisions affect the outcome of the story. For example, a player's actions during a quick time event could lead to a character in the game being killed. The game is released and sold in episodes which are also affected by a player's decisions in the previous chapters.
The first episode of the game titled "Iron from Ice" is available now on the App Store for $4.99. Users will be able to purchase additional episodes as in-app purchases or buy them all at once as a $20 multi-pack.
Game of Thrones - A Telltale Games Series features the voices of Lena Headey and Peter Dinklage and it allows fans to explore locations like King's Landing and The Wall.
Here's the official App Store synopsis:
This new story tells of House Forrester, a noble family from the north of Westeros, loyal to the Starks of Winterfell. Caught up in the events surrounding the War of the Five Kings, they are thrown into a maelstrom of bloody warfare, revenge, intrigue, and horror as they fight to survive while the seven kingdoms tear themselves apart. You will take on the role of different members of the Forrester household, and determine their fate through the choices you make; your actions and decisions will change the story around you.
The game is rated 17+ and supports the iPhone 5 and up and iPad 3 and up. It requires iOS 7.0 or later.
Here's the launch trailer: